Margaret A. Beckman, MATS, M.Div.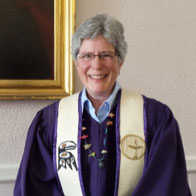 The Reverend Margaret A. Beckman was called to serve the Unitarian Universalist Congregation of Castine on May 1, 2016.
Born and raised in Western Pennsylvania, Margaret is a 5th generation member of her family to live and work in Erie County, Pennsylvania. Following college and a brief stay in California, she returned to Pennsylvania and worked with the family business for ten years in Human Resources and senior management. During that time, Margaret attended McCormick Theological Seminary in Chicago and in 1983 completed a Master of Arts in Theological Studies with an emphasis in ethics and Old Testament. In 1989 she and her partner, Christy Stout, moved to Maine. For the next eighteen years she worked for a small not-for-profit job training and career development company doing work primarily for the U.S. Department of Labor. Margaret joined the Unitarian Universalist church in Bangor, Maine and found the faith tradition that became her spiritual home.
Career changes opened the way for new opportunities, so Margaret returned to seminary where she earned a Master of Divinity degree in 2003 from Bangor Theological Seminary. Ordained by the Unitarian Universalist Society of Bangor in May of 2003 and receiving UUA fellowship the same month, Margaret began ministry as a UU minister. She has completed 14 years as a hospice chaplain and 12 years as the Part Time minister of the First Universalist Church of Pittsfield, Maine before being called to serve the Unitarian Universalist Congregation of Castine in Castine.
Margaret and Christy live in Dedham, Maine where they enjoy life together at Green Lake. When not working they are usually found in the sanctuary of the great outdoors.
Gena Churchill – Organist and Choir Director
Gena has been the Organist and Choir Director at the Unitarian Universalist Congregation in Castine since August 2004. She has played the organ and piano and directed church choirs at various times during her musical career which started at age 14. Gena plays a plethora of instruments as well as the organ, currently including piano and accordion. Gena has a Bachelor of Music from the Northern Conservatory of Music Bangor Me Class of 1968 with a major in Music Education and a minor in piano.
Gena's philosophy about music is: "To make a joyful noise."  She is devoted to making music because she believes that music helps the heart to sing.
Kay Hansen – Religious Education
Kay is responsible for developing a curriculum that aligns with the mission statement and goals of the Religious Education program, designing weekly plans for age-appropriate activities and guiding and teaching the learning activities.
Kay has worked with the children of the Unitarian Universalist Congregation of Castine since 2009. Previously, she was the Director of Religious Education for the Ellsworth Unitarian Universalist Church in Ellsworth, Maine, for fourteen years. In addition, she was an elementary school teacher for approximately 20 years. Kay lives with her husband in Ellsworth and has a grown son who lives nearby.
Becky St. John – Office Manager
Becky has been the Office Manager at the Unitarian Universalist Congregation in Castine since 2011. Becky was not new to UUCC, having been a member of the congregation before becoming the Office Manager. Nor is she new to accounting and bookkeeping work. She worked in office/bookkeeping in Bangor, her home city and in Boston while living there.
Becky received a BA in Art and a teaching certificate studying at the Art Institute of Boston and the University of Maine in Orono.  She worked as an Art Teacher in Winterport schools while earning her Master's in Counseling Education in 1989. It was while working in Vocational Rehab Counseling and traveling in this area that she discovered her home in Penobscot.
She raised two sons who both live in the area. She loves her continuing projects on her house and living on the coast. Becky enjoys combining her experience talents and love of people in managing the administrative work she does for her congregation.