Piano
The Steinway grand piano was acquired with the help of the Castine community in March 2002. The piano was restored by Kim Muller, piano restorer. According to Steinway & Sons, the serial number of the piano is 219447. It is a grand model A 111 6'4 1/2″ mahogany finish made in New York on October 4, 1923 and shipped to a private customer on Park Avenue in New York City. The piano was in the Steinway & Sons repair department in 1950.
Organ
The Moller Organ, Opus 11400, Model 70-5, was built by the M. P. Moller Organ Company of Hagerstown, Maryland in 1979 and dedicated in 1980.
The Stop List follows: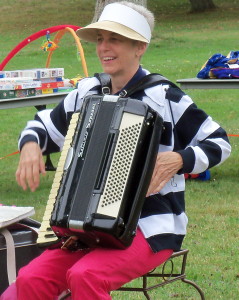 Great
8′ principal
8′ gedeckt
8′ gemshorn
4′ octave
4′ gedeckt
2′ super octave
2′ flute
8′ trompette
Chimes
Swell
8'gedeckt
8′ gemshorn
4′ Spitz principal
1 1/3 Larigot
8′ Trompette
4′ Clarion
Tremulant
Pedal
16′ Bourbon
8′ Principal
8′ Gedeckt
2′ Super Octave
8'Trompette
4′ Clarion
Expression pedal
Crescendo pedal
Concave radiating pedal clavier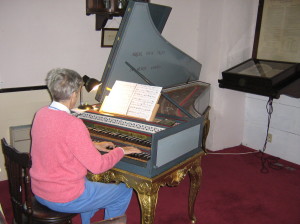 Harpsichord
The harpsichord in the Meeting House was built by a member of the congregation, the late Dr. Nelson Fontneau in 1982. It was donated by his widow Barbara during organist Mary Sochacki's tenure (1991-2004). It was restored by Rod Rieger of Freeport, Maine.
It has 2 manuals, 2 sets of 8 foot strings, and 1 set of 4 foot strings, a coupler, a buff or lute lever along with levers to allow the 4 foot strings to sound.