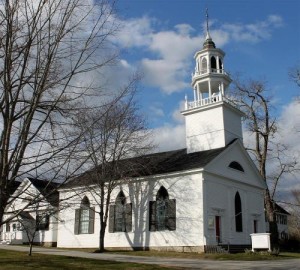 In 1790, when George Washington was in the first year of his presidency, construction began on our meeting house. At that time, Maine was still a district of the Commonwealth of Massachusetts, and Castine was part of the town of Penobscot.
In fact, many in Penobscot were unhappy about plans to build a meeting house on the Castine peninsula. In 1789 the town of Penobscot had begun construction of a meeting house at the ferry crossing on the Bagaduce River. Those who lived on the Castine peninsula did not want to travel that far to go to church, and in 1790 began raising funds to build their own meeting house.
The Meeting House of the Unitarian Universalist Congregation of Castine is located on the town common.  The original building was constructed in 1790 and remodeled in 1831, making it the oldest Meeting House in eastern Maine.  In its earliest day it was also the site of town meetings and many judicial proceedings.  There was no heat in the Meeting House until 1817.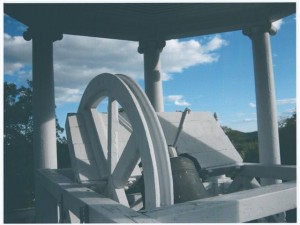 The original building featured a 692-pound bell made in 1802 by Paul Revere.  That bell was replaced in 1831 by the present 996-pound bell, made by Revere's son, Joseph Warren Revere. The original building featured a balcony on three sides, later removed.
At the outbreak of the Civil War, it was the site of a recruitment rally for the Union cause, in which 157 Castine men went off to fight.  Not all returned.
The first of several organs was installed in 1840, followed by others in the late 19th century.  The present Moeller organ was installed in the late 1970s.
Nationally, Unitarians joined with the Universalists in 1961, as did the Castine Unitarians, resulting in the present name: the Unitarian Universalist Congregation of Castine.